Our BIM News Bulletin Board is kept up to date with all the latest news, updates and changes that you need to know. Bookmark this page to have all the essential updates in one place, on time.
---
#53 – 3 BIM Implementation Strategy Mistakes to Avoid
Over the past several years, Building Information Modeling (BIM) has become the standard for forward-thinking architecture, engineering, and construction firms. It increases efficiency, drives timelines and budget savings, reduces conflict and rework, and improves project control.
This article explores the the three big mistakes companies make with their BIM implementation strategy, and how you can realize its true benefits.
---
#52 – Revit: What causes data corruption?
A quick tip from Bill Wright
The corruption of a Revit file can typically occur when a network is slow or synchronization has stopped or was happening during a crash or Revit.
This is the process I went through to find the corrupt Elements:
In the Revit Project file > Save As > Library > Family, while saving families Revit will give fatal error. Notice the family in status bar at which Revit gave fatal error. This family is corrupt one.
Repeat the process by deleting the corrupt family from the project browser by opening the file again. Do the same procedure till you get all the corrupt families.
In some cases, you will see the dialogue box saying the file cannot be saved as the one is corrupt. In this case there will be no fatal error. Just notice the family and replace later after saving families operation is over.
Once you know the corrupt element replace them with good families available with you.
---
#51 – 5 Ways Construction Technology Can Transform Plan vs. Performance
Nobody understands better than a construction professional the vast difference between what goes down on paper and what actually happens in the field–i.e., the plan versus performance. Whether it's rework, cost overruns, scheduling delays, or rapidly shrinking profit margins, the plan never truly survives contact with reality. Fortunately embracing advancing construction technology can help keep plans on track!
Take a closer look at the problem and solutions >>
---
#50 – Redcage announces that we are now an Authorized ClearEdge 3D Partner
Redcage announces that we are now an Authorized ClearEdge 3D Partner. EdgeWise software from ClearEdge3D offers a host of modeling features and tools that help users quickly take point clouds and convert them to usable as-built, 3D plant and building models.
In fact, it is the most technologically advanced as-built modeling platform in the architecture, engineering, and construction (AECOO) industry. Utilizing automated feature extraction, pattern recognition technology, object recognition algorithms, and other state-of-the-art technologies, Edgewise can reduce modeling time by up to 75%.
In combination with Leica's BLK 360 Scanner and Autodesk's ReCapPro, Redcage can show you easy-to-learn workflows on how to Capture Reality and convert it to accurate as-built Revit models that you can design on top of. Why measure-up, when you scan-up!
Call us today for your personalized demonstration on the Leica BLK 360 Scanner, Autodesk ReCap Pro, and/or ClearEdge 3D EdgeWise >> 1.888.249.4481
Learn more on our EdgeWise information page >>
---
#49 – Reality Capture and the Importance of As-Built 3D Models for AEC
The world is composed of two types of information: digital and physical. Physical representations of digital data exist all around us, as do digital representations of physical data. You can look through billions of digitized photos on the internet if you have a computer and network connection. You can look through vast libraries of 3D models that represent physical objects. There are physical items that you possess made from digital designs modeled after physical objects.
READ MORE
---
#48 – Autodesk Previews Next Generation BIM 360 Platform at AU 2017
LAS VEGAS, NV, Nov 14, 2017 – At its 25th annual flagship user conference, Autodesk University, Autodesk, Inc. previewed its next-generation BIM 360 platform, a seamless cloud service connecting the entire construction project lifecycle. Autodesk also launched the "Connect and Construct Exchange," a new BIM 360 integration partner program designed to bring third-party software applications and data into the BIM 360 construction workflow. The Connect and Construct Exchange launched with more than 50 inaugural BIM 360 integrators.
READ MORE
---
#47 – Live and On-Demand Webinars for the Structural Steel Industry
The way we design, detail, and fabricate structural steel is changing. Whether moving away from PDF drawings to 3D steel models, or switching to prefabrication using automated CNC machines, innovative companies are making strides to become more efficient, expand services, and reduce errors and rework.
Join Autodesk and some of our key customers and partners as they reveal their tips and tricks for adopting new technology to stay ahead of the curve. Click on the link below and sign up for one of many live or on-demand webinars. If you are looking to understand how others are "doing it", then these webcasts are for you.
TAKE A LOOK
---
#46 – ReMake has moved to ReCap Photo
Autodesk ReMake has been replaced with ReCap Photo, the new desktop and cloud solution with expanded capabilities and new features supporting drone and UAV workflows. ReCap Photo is available now through a subscription to ReCap Pro.
With this change, Autodesk is ending the sale of ReMake as a stand-alone subscription.​
Introducing ReCap Photo >> | FAQs >>
---
#45 – iOS 11 and BIM 360 Ops: Perfect Together
BIM 360 Ops has been updated to provide support for the just released iOS 11. Please ask your teams to update their app today.
---
#44 – Notification: AutoCAD P&ID End of Life
As of May 7, 2018, Autodesk will officially discontinue AutoCAD P&ID as an individual product. As of that date, there will not be any further releases for that product and product updates will no longer be delivered.
AutoCAD P&ID customers are encouraged to subscribe to AutoCAD Plant 3D or the Architecture, Engineering, and Construction Collection (AEC Collection) – which includes AutoCAD Plant 3D – in order to continue to have access to the tools they need to support plant design projects. P&ID functionality is available in AutoCAD Plant 3D and will continue to be developed and delivered in that product offering.
---
#43 – Canadian Practice Manual for BIM
We are very excited to announce the release of the Canadian Practice Manual for BIM.
buildingSMART Canada (bSC) has released a new practice manual to serve the design, construction and operations sectors of the Canadian built environment in the adoption of lifecycle Open Building Information Modeling (BIM).
The Canadian Practice Manual for BIM comes in three volumes designed to provide novice and intermediate BIM users with a framework for developing and adopting company-centric practices to streamline and improve their use of digital information within a Canadian context. For more advanced organizations, the manuals provide approaches to collaboratively exchange models and information between project participants. These manuals complement existing resources for BIM in Canada, namely the IBC BIM Contract Appendix and the IBC BIM PxP Toolkits.
---
#42 – New additions to your Autodesk® AEC Collection
The Autodesk® AEC Collection now includes VR, Computational Design, Analysis, and Fabrication
Autodesk® has included additional tools to the AEC Collection software portfolio that support the next generation of BIM—and Autodesk® Revit®-based—workflows for building and infrastructure projects from planning and design through preconstruction. The AEC Collection has always been about giving you a single toolkit for all your BIM and CAD needs, and this expansion backs up that promise.
In addition to Revit, AutoCAD®, Autodesk® Navisworks® Manage, Autodesk 3ds Max®, and more, the Collection now includes the following tools:
• Autodesk® Revit® Live
• Autodesk® Robot Structural Analysis Professional
• Autodesk® Dynamo Studio
• Autodesk® Advance Steel
• Autodesk® Fabrication CADmep™
• Autodesk® Structural Bridge Design
These additions are available at no extra charge and make it easier for you to access and implement the powerful BIM workflows you need—when you need them. Here are some of the capabilities these new tools give you:
– Virtual Reality: Revit Live allows you to visualize your Revit models by turning them into immersive visual experiences. You can even take your designs into a virtual reality environment with just two clicks of your mouse.
– Computational Design: You can now access the Dynamo Studio standalone programming environment to help solve challenges faster by automating workflows that drive the geometry and behaviour of your design models.
– Analysis Software: Robot Structural Analysis Professional and Structural Bridge Design work with Revit to extend your capabilities to perform structural analysis for any structure.
Fabrication: The AEC Collection now extends capabilities from design to fabrication. Interoperable with Revit and Navisworks, Advance Steel and Fabrication CADmep have been added to the Collection so you can conceive, model, and fabricate better MEP and structural steel systems on an integrated platform.
Visit our AEC Collection page for more information on what's available in the collection.
If you currently have a maintenance plan for Advance Steel, Fabrication CADmep, Robot Structural Analysis Professional, and/or Structural Bridge Design you will be eligible to move to a subscription to the AEC Collection at a discount at the end of your maintenance plan term.
If you're already a subscriber to the AEC Collection, log in to your Autodesk Account to access the new tools in the Collection.
LEARN MORE
---
#41 – Redcage Now Offers the LEICA BLK360 Imaging Scanner!
Redcage now offers the LEICA BLK360 Imaging Scanner. A 3D scanner with integrated spherical imaging system and thermography panorama sensor system.
Contact us for pricing and more information >> 1.888.249.4481
---
#40 – Redcage Sponsoring a Hole at the HBSA-CSC 2017 Annual Charity Golf Event
This is an annual event organized by the Hamilton-Burlington Society of Architects and the Construction Specifications Canada – Niagara Chapter. This event brings Architects, Engineers, Designers and Suppliers in the Hamilton-Burlington Area together for an enjoyable afternoon of fun, food and golf. We're proud to be sponsoring a hole at the event – all proceeds go to charity.
The HBSA-CSC is held on Thursday, September 21, 11:00 AM at Lowville Golf Club in Burlington.
If you're in the neighbourhood, come and join us. Register soon – this event always sells out!
GET TICKETS
---
#39 – Creating bridge components in Inventor
CREATE CUSTOM BRIDGE COMPONENTS
Working between Inventor and InfraWorks
Add and configure custom parts to libraries in your InfraWorks model
WATCH THE VIDEO
---
#38 – New Navisworks tools give users more control
Navisworks® tools enable greater coordination, construction simulation, and whole-project analysis for integrated project review. Some Navisworks products include advanced simulation and validation tools.
SEE WHAT'S NEW
---
#37 – Watch On Demand: See What's New in Revit 2018
Want to know what to look for in the latest version of Revit software? Watch this webinar on demand to hear directly from the Revit product management team about new features and functionality in Revit 2018, including discipline-specific enhancements for architects; MEP engineers, designers and contractors; and structural engineers.
WATCH ON DEMAND
---
#36 – **COMING SOON** Redcage presents: BIM in Canada featuring the Bergeron Centre
We want to inspire, promote and support BIM in Canada for a sustainable built environment.
We set out to record the story of the Bergeron Centre at York University (ZAS Architects). The entire project was done in a full BIM environment. The project had a very ambitious 24-month start to end project schedule which was only attainable using BIM.
The mini-documentary interviews key players and outlines the process, some of the challenges and the incredible success of the Bergeron Centre, "a pride of Toronto not just York and York's community". Certainly, the Bergeron Centre is an outstanding example of the kind of work Canada can produce, setting us up as leaders in the BIM space.
The mini-documentary is launching soon, we'll let you know.
---
#35 – Live Webinar: Design for the Future: AutoCAD, 3D scanning, and ReCap
Stay at the forefront of design with AutoCAD and 3D scanning technology.
Live Webinar: Wednesday, July 19th, 2017 @ 2pm ET
3D scanning technology is quickly becoming more affordable and mainstream. In this session you'll learn how to jumpstart your designs by referencing existing conditions into your AutoCAD drawings. We'll share real-world examples of how this technology can be used to persuade stakeholders, save time, and minimize costs.
– See how point cloud data is captured in the field and easily processed for access in AutoCAD using ReCap Pro.
– Explore some of the simple ReCap tools for navigating and editing point cloud files.
– Learn how to bring that point cloud data into AutoCAD to accurately measure, create, and document your new designs.
3D scanning is the future. Don't be left in the past!
REGISTER TODAY
---
#34 – Now's the Time to Switch to Subscription
Do you have a perpetual licence on a maintenance plan? Take advantage of a special offer to switch to subscription!
At time of renewal, you can choose to move to subscription for the same cost as your maintenance plan renewal—or switch to an industry collection at a special price.
When you switch, you secure discount pricing. As long as you continue to renew, you'll enjoy special pricing, which will be lower than maintenance plan renewal pricing, and far below the cost of purchasing a new subscription.
Learn More About the Benefits of Subscribing
---
#33 – HBSA Architectural Crawl 2.0
Redcage had the privilege of being a gold sponsor of HBSA Architectural Crawl 2.0 on June 9th. This was one of the best events we've been to. Such a great atmosphere and turnout of folk in The Hammer….. If you weren't able to make it this year, put it in your calendar for 2018!
---
#32 – BIM in Canada: Moving toward a national mandate for building information modelling
Fantastic article in Construction Canada by Erik Poirier, PhD, LEED AP
The Canadian architecture, engineering, construction, owner, and operator (AECOO) community is ripe for change. Building information modelling (BIM) provides a framework to prompt and guide this transformation. Many countries around the globe have put forth BIM mandates to support the collaborative process' deployment—the goal is to improve the performance and value generated by their respective design, construction, and asset management sectors.
Canada's public bodies are notably lagging behind in this regard. buildingSMART Canada has issued a call to action, in the form of its "Roadmap to Lifecycle BIM in the Canadian AECOO Community," which sets the foundation and provides a way forward for governmental mandates at all levels in this country.
READ THE ARTICLE
---
#31 – AEC Excellence Awards: Open for Submissions Now through June 23
The AEC Excellence Awards 2017 is now open for submissions!
This year's competition is accepting projects embracing the future of making things for AEC and civil infrastructure through the use of innovative and connected BIM technologies, in the categories of Building, Infrastructure, Construction and Sustainability.
We are looking for truly inspirational projects. The best examples of connected BIM and future inspired global projects. Pioneering projects that are using BIM, implementing technology trends such as Augmented Reality/Virtual Reality, drones, generative design, computational design and more — the best efforts using BIM workflows and Autodesk tools.
The deadline for entry is June 23, 2017. The top ten nominees for each category will be announced in August. The winners will be announced at the AEC Excellence Awards Ceremony at Autodesk University Las Vegas 2017 in November.
If your project takes BIM to the next level, submit it to the competition and you could get global recognition!
ENTER NOW
---
#30 – BIM 360 Docs begins User Interface Migration in June
On Tuesday, June 13, BIM 360 Docs is getting a facelift. When users log into BIM 360 Docs, they will access their projects and data via the Document Management module of the next-generation BIM 360 UI. Watch a screen-by-screen comparison of the BIM 360 Docs UI changes below:
Why is Autodesk changing the user interface?
Autodesk's BIM 360 product vision and roadmap includes moving towards a unified, single platform where customers can interact with all of the data required to run their jobs. Providing a single entry-point to BIM 360 services is an important aspect of delivering on this vision, and the new BIM 360 user interface will serve as this single entry point. Because BIM 360 Docs will serve as the underlying document repository for all next-generation BIM 360 modules, they are migrating this service to the new UI first.
How will this impact BIM 360 Docs customers?
The new UI has been carefully designed to make the transition as smooth as possible. All customer projects, members and data will be accessible, and navigation to features and functions is clearly labeled. The position and visibility of some functions in the UI has changed, but there is no change to the workflows or how the solution works. Additionally, there are no current changes to either the Large Model Viewer (LMV) and its associated functions, nor to the BIM 360 Docs iOS or Android mobile apps.
Will other BIM 360 services be impacted?
Not now. On June 13th, only BIM 360 Docs users will see this UI change. Over the course of this year, more BIM 360 services will be added as modules within the next-generation BIM 360 UI.
What's coming next in the roll-out of the next-generation BIM 360 services?
The next phase of the BIM 360 roll-out will occur in late June with the migration of Account Administration (HQ) functions to the new user interface. We will communicate details of these changes over the next couple of weeks.
As always, please give us a call on 1.888.249.4481 if you have any further questions.
---
#29 – Toronto BIM Community (tBIMc) Launch Event
The BUILD Toronto BIM Community (tBIMc) launch event is open for RSVP'ing!
Date: June 12th
Time: 6:00pm
Place: 55 St Clair Ave West
The BUILD tBIMc Launch Event will introduce the tBIMc board members, the organization's mission and long terms goals. An open session for networking and discussions will take place to hear the needs and ideas of the community.
RSVP
---
#28 – Cradle to Cradle Product Design: Designing for a Circular Economy (Free Course)
Course Information
The Cradle to Cradle Products Innovation Institute is offering this free web-based education program to provide practical instruction for product designers in the application of 'cradle to cradle' design principles. The course challenges you to design to ensure that the materials that go into your products can return safely to industry or nature at a product's end of use.
The course is presented in six sections:
1. Overview of Cradle to Cradle philosophy and certification
2. Material Health
3. Material Reutilization
4. Renewable Energy
5. Water Stewardship
6. Social Fairness
DURATION: 2 hours
COST: Free
REGISTER HERE
---
#27 – AutoCAD P&ID is no longer available for purchase
As of May 7, 2017, new subscriptions of AutoCAD® P&ID will no longer be available.
AutoCAD P&ID customers with an active subscription license as of May 7, 2017 can continue to use and renew their license per their subscription plan.
Continued support for AutoCAD P&ID
If you have a perpetual license for AutoCAD P&ID or Plant Design Suite with a current maintenance plan, you can continue to use the product and will have support through the duration of your maintenance contract. However, we encourage you to subscribe to AutoCAD Plant 3D or to the Architecture, Engineering & Construction (AEC) Collection, which includes AutoCAD Plant 3D.
AutoCAD P&ID features available with AutoCAD Plant 3D
AutoCAD P&ID features and capabilities have always been available within AutoCAD Plant 3D, the Building Information Modeling (BIM) solution for plant design. With AutoCAD Plant 3D, you will have P&ID functionality along with more advanced capabilities for plant design.
Learn more about AutoCAD Plant 3D
Move to the AEC Collection
As of April 14, 2017, AutoCAD P&ID will no longer be available in the AEC Collection. Current subscribers to the AEC Collection will continue to have access to all the P&ID features they need through AutoCAD Plant 3D, which is part of the AEC Collection.
With the AEC Collection, you get access to AutoCAD Plant 3D along with other tools that address the plant design process, from planning and design through construction. The AEC Collection offers access to the Autodesk software you want and need, while providing greater value, more flexibility, and a simplified customer experience.
Learn more about the AEC Collection
Enterprise Business Customers
For customers on an Enterprise Business Account contract, contact your Autodesk representative to be sure AutoCAD Plant 3D is added to your contract.
---
#26 – The Building Performance Analysis (BPA) Certificate Program
What is it?
The Building Performance Analysis Certificate (BPAC) Program is a free, online, self-paced, and on-demand educational program. BPAC uses the latest Autodesk building performance design software tools, integrating performance feedback directly into the design process. It is made up of a series of quizzes and exercises with readily accessible online reference materials.
Who is it for?
BPAC is designed for architects and engineers who want to learn how to incorporate high performance building design into their workflows with Autodesk tools.
REGISTER HERE
What's Covered?
Autodesk BPA Certificate Program is comprised of 7 modules.
1. Introduction: Building Performance Analysis
2. Energy Literacy & Building Loads
3. Climate & Weather Analysis
4. Solar Measurements & Strategies
5. Wind & Airflow Strategies
6. Daylighting Strategies & Analysis
7. Whole Building Energy Optimization
Software Covered: Revit, Autodesk Insight, Autodesk FormIt and FormIt Pro
What's New?
Updated in February 2017, the updates include
• Latest building performance analysis tools covered – Revit, Autodesk Insight, Autodesk FormIt & FormIt Pro
• Cloud-based technology with improved speed
• Optimization via graphic-based interface
• Comparative input/output features
• Improved ability to make insightful connections
• Intuitive climate responsive design
• Rapid Prototyping
• More robust analysis scenarios
Watch an introduction to BPAC video:

REGISTER HERE
---
#25 – BIM Market by Types (Software and Service)
An interesting report forecasting the BIM market size in terms of value for BIM software and services. The Building Information Modeling market is expected to grow from USD 3.16 Billion to USD 7.64 Billion by 2022.
BIM is going to be the norm in the near future, and early adopters will benefit immensely.
---
#24 – Are You Using BIM 360 Team Yet?
If you've been using Dropbox, OneDrive, Google Drive, Box or any other file storage and sharing app, you know the frustrations and limitations that come with it. Autodesk BIM 360 Team is specifically built with the AEC industry in mind. There isn't anything quite like it and it's just getting better and better.
Features:
– Markup directly and comment on designs directly on the browser
– Track, compare and control a full version history
– Immersive 2D & 3D viewer that is fully integrated with your Autodesk software
– View over 50 design formats including DWG, DXF, RVT, IFC, SKP, MAX, NWD etc
– Search within design files, find related components
– Explode model and sectional analysis
– Project activity feed keeps you all connected
Compare other file sharing and storage apps and learn more about BIM 360 Team
BIM 360 Team works like a dream with Collaboration for Revit (C4R) – contact us for more information about pricing and specials.
Additional resources:
Getting Started Guide (AKN)
BIM 360 Team YouTube playlist
BIM 360 Team forum
BIM 360 Facebook
BIM 360 Twitter
---
#23 – CanBIM Annual Publication 'Innovation Spotlight' is Here
CanBIM's first Annual Publication, which is geared to the BIM practitioner looking to benefit and learn from their colleagues and peers. The CanBIM Annual Publication is one part market report and one part insider's guide to BIM and VDC adoption. A carefully curated publication that aims to inform, educate and publicize the amazing technological leadership of the Canadian Design and Construction industry.
If you are an Owner, a Tradesperson, Architect, Engineer, Constructor or anyone involved in building or even maintaining assets, we hope that this publication will be a source of information to draw upon when adopting new technologies.
Download your copy of the Innovation Spotlight
---
#22 – Save Time With This Efficient Method For Managing Revit Templates
This article in archdaily discusses the use of the C-B-T method as an effective approach to building Revit models.
---
#21 – Boost Your BIM ROI with Cloud Based Collaboration
Download your copy of this comprehensive guide to BIM cloud based collaboration. It features various chapters that outline how to extract maximum value from your BIM investment.
Topics include:
– The four trends driving collaboration in building design
– How connectivity, collaboration, and cloud impact design professionals
– How collaboration technology enables new ways of working
– Why cloud for design collaboration?
– Nine ways cloud-enabled design collaboration can help increase BIM project profit margins
– Which delivery models apply to your sector?
– Autodesk solutions for better design team collaboration
Download your copy here: comprehensive Guide to BIM Cloud Based Collaboration
---
#20 – Product Name Change for InfraWorks 360
In Q1 of this year, Autodesk is removing the "360" label from several products, including InfraWorks 360. When it goes into effect, Autodesk InfraWorks 360 will simply be Autodesk InfraWorks.
Why are they making the change?
The change is to simplify product names and have greater consistency across product branding. Aside from InfraWorks, these products will also be dropping "360" from their current product names:
• AutoCAD 360 (both the cloud service and mobile app)
• FormIt 360
• Insight 360
• ReCap 360
These products will continue to retain the "360" label:BIM 360 and Fusion 360.
How are customers affected?
Other than customers seeing the new product name when the new release becomes available in the April timeframe, there will be no impact to customers.
Does this name change signal a divestment from InfraWorks?
No. Autodesk remains committed to InfraWorks and will continue to invest in this solution.
---
#19 – Gensler Architects and Corgan, Inc.: LAX Airport expansion project
Live Webcast: Feb 16 @ 2pm ET
Hear how Collaboration for Revit and BIM 360 Team enabled access to data and team collaboration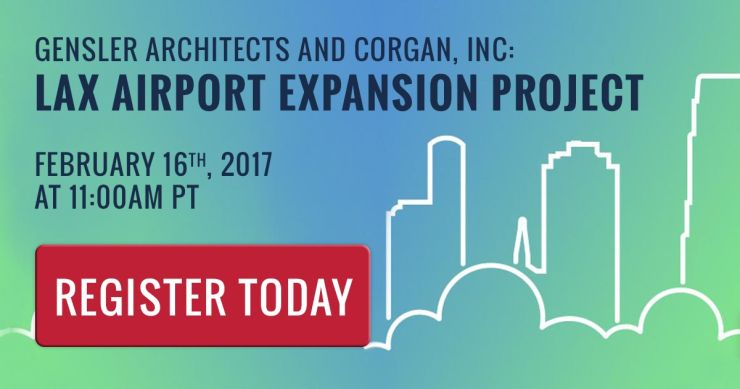 Please join Steve Knudsen from Gensler Architects and Chad Speas from Corgan Inc. to learn how both firms used cloud-connected building design team collaboration tools to design the complex 1.2 million square foot Midfield Satellite Concourse terminal expansion project at LAX airport. This in-depth presentation will demonstrate how both firms used Autodesk Collaboration for Revit and BIM 360 Team to enable worksharing and provide a central project repository where they could share, track, and review their Revit models, no matter where their teams were located.
Learn how they:
• Kept all team members connected with virtual collaboration
• Conquered the challenges of version control
• Facilitated efficient review and decision-making
• Saved money and delivered the project more efficiently
---
#18 – Autodesk Seek Business Transferred to BIMobject

BIMobject AB ("BIMobject") announces today that it has signed an agreement with Autodesk regarding transfer of the operations of the Autodesk Seek business to BIMobject. As part of this arrangement, BIMobject will assume the operational responsibility of providing Autodesk Seek customers with high quality building information modeling (BIM) content services on the BIMobject Cloud.
Visitors to the seek.autodesk.com web site will be re-directed to bimobject.com which will assume hosting and publishing of Seek customer content.
---
#17 – Introducing AutoCAD 2017 for Mac and AutoCAD LT 2017 for Mac
On December 12, 2016, AutoCAD 2017 for Mac and AutoCAD LT 2017 for Mac releases were launched.
What's new:
• More Organized & Intuitive User Interface
• Tool Sets More Efficient, Customizable
• Gain More Control Importing PDFs
---
#16 – Autodesk Unifies BIM 360 (formerly A360) Account Administration
The BIM 360 solution includes BIM 360 Field for construction management, BIM 360 Glue for coordination and layout, BIM 360 Plan for short-term, collaborative construction planning, and BIM 360 Docs for construction document management.
You can read a breakdown with images about the BIM 360 account changes here.
---
#15 – PDF of all Item Patterns for Fabrication 2017
Download all the CID Patterns for 2017.
Broken down in a few different ways for easier review.
VIEW THE PATTERNS HERE
---
FIND OUT WHAT YOU NEED TO KNOW ABOUT YOUR AUTODESK ID
So many are still unaware of the power that lies latent in their Autodesk ID. In this 13 Slide PDF, Travis will show you what your Autodesk ID is, how it can greatly benefit you, and how to get it!
---
#14 – Announcing Autodesk BIM 360 Team LIVE Weekly Webinars


The Autodesk Tech HUB Team has been flooded with questions about the new BIM 360 Team application. Join the new weekly 30-minute webinar sessions where Autodesk gives you a chance to see the product live and ask their technical team direct questions. These are dynamic presentations where attendees drive the conversation.
Join the series this Thursday, December 8th at 12pm EST and weekly through January 26th (excluding holidays).
Attend only one webinar or all of them, and be sure to invite your customers.
Click here to sign up for the BIM 360 Team webinars >>
[thrive_2step id='3543′]
Contact us for more information, pricing and options >>
[/thrive_2step]
---
#13 – Fabrication Fundamental Training Videos
Fabrication CADmep
Fabrication CAMduct
Fabrication ESTmep
---
#12 – Go Mobile with AutoCAD 360 Pro – 50% off 1st Year of Subscription

Maintenance and perpetual license customers can save 50% off 1st year of AutoCAD 360 Pro mobile app subscription – just $25 for the first year!
AutoCAD 360 Pro is ideal for Architects and Field staff working with DWG files outside of the office. AutoCAD 360 Pro is a great add-on for the field team – a construction firm with 50 installers, for example.
With AutoCAD 360 Pro on your phone or tablet, you can view, create, edit, and share CAD drawings at job sites, clients' offices, or anywhere you are.
Promotion is valid only for AutoCAD 360 Pro purchases made from November 7, 2016 to January 20, 2017
---
#11 – RIB Software and Autodesk Collaborate to Deliver an Integrated 5D BIM Solution for Construction
Autodesk and RIB Software AG are pleased to announce a new joint-effort to deliver the best of the best in the next-generation 5-D building information modeling – a collaborative effort expected to offer the AEC industries an integrated, interoperable 5D BIM solution. Together, the goal is to provide a joint solution which will help to reduce project risk while increasing industry profitability and productivity in an accessible and affordable way.
A 5D solution provides all of the necessary design from Autodesk's Revit software, schedule and cost information in a single environment to become a single source of truth for construction project teams. Autodesk will provide support for the integration of the Revit BIM technology into iTWO.
This announcement is a significant step in a more productive, risk-reduced future for the construction industry. Complete announcement under: blogs.autodesk.com/inthefold/
---
#10 – Webcast Alert: A360 Collaboration for Revit Hangout
On December 15 join the last A360 Collaboration for Revit hangout event of 2016. It will be a highly interactive session to review the latest features of Collaboration for Revit as well address any questions.
---
#9 – Building Ops iOS Updates are Coming
Here's what's coming:
✔ Enhancements to due dates and times
• When a service level agreement is applied to a scheduled ticket, the scheduled due date will not be changed. Only the priority and category will be updated per the service level agreement.
• For reactive tickets with a service level agreement, you may manually adjust the priority, due date or time without impacting the other fields. To reset the service level agreement rules, apply a different service level agreement or clear and re-apply the original.
• For reactive tickets, the priority sets the default due date and time. You may adjust the due date and time without impacting the priority. To reset the priority rules, apply a different priority.
✔ Enhancements to checklists and scheduled tickets
• If a checklist template is updated, the updated template will be applied to all scheduled tickets with the status of Open or Assigned
• Once the ticket status is set to In Progress, the checklist template will not be updated.
• If a user starts to fill out a checklist in an Opened or Assigned ticket, the ticket will be assigned to that user and the status will be set to In Progress.
✔ Technicians whose category matches a ticket's category will be recommended when assigning the ticket
✔ Ticket created times are set when a ticket is submitted
✔ The second street of a building address is not included when verifying an address, increasing the likelihood of a match.
Did you know that ticket status can be used to help manage what is synced to your iOS device? Learn more here.

---
#8 – Advance Concrete Retirement Announcement
Autodesk is discontinuing Autodesk® Advance Concrete on January 31st, 2017.
The Advance Concrete software has been a solution for customers who need to perform concrete design and detailing, and generate construction drawings and deliverables. Since acquiring the Advance Concrete technology, Autodesk has been investing in the next generation of BIM centric workflows for structural modeling and detailing. Part of this investment has included improving the reinforcement detailing and shop drawing tools in Autodesk® Revit® software. As the concrete industry moves to BIM, Autodesk is creating a path for Advance Concrete users to migrate to Revit so they can more effectively perform concrete design and detailing within a BIM environment.
Customers using Advance Concrete that want to migrate to Revit should contact their Autodesk reseller to learn about the best options for them.
Download the Advance Concrete Retirement FAQ here.

---
#7 – Last Chance! See What's New at Advance Steel 2017.1
Live Webcast: Sept 30 @ 8am PT
Part of the Connected Fabrication Webcast Series
Join Autodesk's product managers for your first chance to see Advance Steel 2017.1. We've chosen AISC's Steel Day to reveal what our product managers and developers have been up to and get your questions answered during this live demo.
• Boosting productivity by automating tasks
• Connecting detailing to fabrication through export enhancements
• Computational design for steel design and detailing
It's not too late. SIGN UP for the free webinar today.

---
#6 – Switching from Subscription to Industry Collections
On October 12th, Autodesk is introducing the ability for customers to switch their existing annual and/or multi-year subscriptions to an Industry Collection. Customers worldwide who have purchased a renewable annual or multi-year subscription can choose to switch their subscription to an Industry Collection. You have the flexibility to do so any time, after the first 90 days of purchasing a new subscription. This flexibility allows customers to make changes as their business needs change, and as they require access to additional products and services.
Switching subscriptions changes the original subscription to a new subscription. It is not currently available for switching from a perpetual license on maintenance plan.
This will include switching from individual products to a collection, and from the Design & Creation Suites to a collection. In some cases this switch will be at no cost and in other situations, a pro-rated cost will be calculated.
Here are a few examples of the paths Autodesk will support for switching subscriptions:
• from AutoCAD to the AEC Collection, or
• from Building Design Suite Standard, Premium or Ultimate to the AEC Collection, or
• from 3ds Max to the M&E Collection, or
• from Product Design Suite Premium or Ultimate to the Product Design Collection
After switching subscriptions, the term length, access type, support level and billing type remain the same.

---
#5 – Buzzsaw End of Sale Announcement
Construction is a document-intensive business, and the amount and pace of change can be overwhelming if there is no single platform for storing, coordinating and sharing project information. Autodesk has been addressing this pain point for years, with software like Buzzsaw and the recent introduction of BIM 360 Docs. As customer requirements to store, share, access, and review all project information via a single repository have grown, and Autodesk's cloud platform has evolved; BIM 360 Docs is becoming their standard offering for document management and collaboration for the construction industry.
For this reason, they are announcing the End of Sale of new Buzzsaw and Buzzsaw Professional subscriptions effective October 7, 2016. Autodesk will no longer be selling new Subscription licenses of Buzzsaw. They will however, continue to maintain current subscriptions of Buzzsaw for current customers for the foreseeable future.
Companies who are interested in Buzzsaw should looking into BIM 360 Docs.

---
#4 – Hilti Button for Firestop: BIM & Firestop Easier than Ever
Firestop at the click of a button. Hilti Button for Firestop is a new innovative piece of software, which fully integrates firestop planning and execution into an existing BIM workflow. By automating all relevant tasks, hours of labor-intensive work become obsolete, thus simplifying the life of all stakeholders – right from the planning through the installation of firestop products to the handover of the building.
Hilti Button for Firestop at a Glance:
• Firestop fully integrated in the BIM Workflow
• Certainty in firestop product and UL system selection
• Best preparation for inspections and approval
• Time and money saving process by designing all firestop applications in the BIM model with a simple click of a button
• Eased preparation of submittals and bill of materials with one click
Go here for the Hilti Button for Firestop Plugin.

---
#3 – Autodesk University 2016 Early Registration is Now Open

Help maximize your investment in Autodesk software by attending Autodesk University (AU) in Las Vegas this ‪November 15-17‬ at the Venetian Hotel. AU is Autodesk's largest customer event. At this one-of-a-kind conference you can learn about industry trends, expand your product knowledge, earn certifications, and network with professionals from around the world.‬‬
ACT Now and register – classes fill up quickly and the AU registration prices will increase ‪October 10.‬‬ To register, go here.‬
New to Autodesk, wondering what Autodesk University is? Here's a video to help:


---
#2 – Register for the MEP & Fabricators Forum 2016

Autodesk University's third annual event with a focus day on MEP and Fabrication. Network with your peers and get information that you won't find anywhere else. Register today!

---
#1 – CanBIM Toronto Regional Session & Technology Exhibition

CanBIM's 2nd Annual Technology Built Innovation is jam packed with activity. Redcage's own Paul Bardati and Bill Wright will be presenting on Thursday October 6th!
On the 6th, the focus is on innovative and emerging BIM workflows, methodologies and technologies from industry leaders in the Architectural, Engineering, Construction and Facility Management fields. Right next door to the main presentations is the Technology Exhibition, where Redcage will have a booth. Come on over and say hi 🙂
---
Please contact us if you have any questions about any of the posts above. We're here to serve.